What We Do
We are a founder member of the Palletways Pallet delivery Network. The largest dedicated pallet network in the UK. We move Pallets of goods across the UK and offer a Premium Next Day and an Economy 2 – 3 Day service. We also offer a general haulage service moving dedicated loads.
How We Do It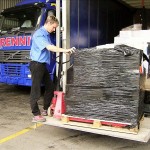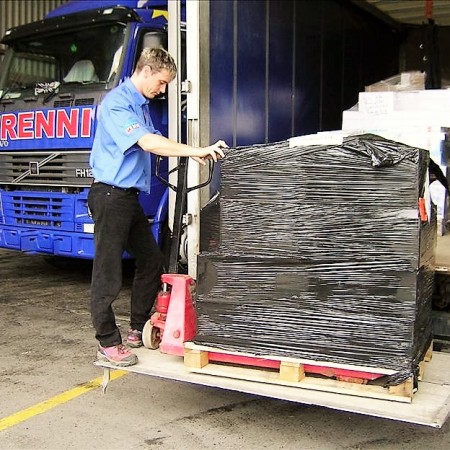 We have a selection of Tail Lift, Curtain Sided trucks to collect and deliver a variety of palletised freight. We work with a team of professional haulage partners covering every postcode of the UK. All goods we collect from local customers in our SA Postal Area are transported, overnight, to a central sortation facility known in our industry as a Hub. At the Hub goods get sorted into post code areas . Our Partners then collect these goods in readiness to deliver into their local postcode areas. Our vehicles are then loaded to return with consignments destined for delivery in the SA area..
All this is controlled using our computer system, "Palletways Portal" that allows our professional team to maintain checks on goods movements from start to finish. It also allows our customers to view their consignments that we are handling, to be able to update delivery points with their expected delivery times. The system also automatically generates Estimated Time of Arrival (ETA) and on completion of delivery allows you to see in real time where the goods were delivered with photographic evidence. All of which is visible on our portal.
What Do We Carry
We move a massive range of goods. Tiles and bathroom fittings, cosmetics, car parts, generators, food products. Basically, anything that can' or needs to be palletised, for ease of handling or for safe moving, to protect goods from possible damage.
Our Team
We have a team of experienced and qualified drivers. They carry android or IOS devices with our bespoke Palletways app enabling them to communicate with us and interact with each of the consignments on their devices to add ETAs and Proof of delivery along with photos of the pallets on collection or delivery. Backed up by a team of personable customer services professionals and a common set of rules and performance goals to ensure a quality service from start to finish.
Managing all this are the senior directors and managers that are focussed in providing the best service to all our customers. Frenni have won many accolades and have been deemed a Platinum Partner a number of times and have been voted by the members as depot member of the year. Our highest accolades within Palletways.
When you work with Frenni Transport you know you are working with the best.
Relationships are built on trust and trust is built on performance.
"Relationships are built on trust & trust is built on performance"
Frenni was established in March 1979 and became incorporated in 2002. We are members of the RHA (Road Haulage Association) and have been members of Palletways since 1994.
Frenni aim to provide our valued customers with the highest level of transport service that we, as a team, can provide on a profitable basis. We strive for this aim within a working structure of mutual respect and with due recognition of our drivers as the ambassadors of the company. The ethos of the company shall be professional at all times to achieve a happy working environment for all staff.
Covid - 19 Announcement
Frenni Transport & Palletways is committed to maintaining our customer and employee safety, and in line with the Government guidelines, we have made some changes to our collection and delivery procedure which reduces the risk of infection by ensuring there is no direct or close contact between the customer and our delivery driver. These changes are being applied to all deliveries until further notice. We would like to thank all our customers for their continued support and understanding to this ever-changing situation.